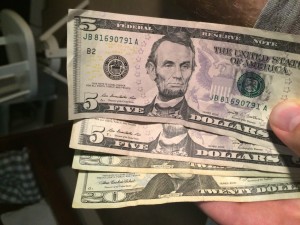 This past Sunday, we showed a video at the church I have the privilege to pastor, Christ Community Church of Magnolia, about a new ministry that was launched from our church family called Feed Teach Hope. Later that day, I had a 9-year-old come to me and hand me $50 cash for the mission trip in October. I asked her if she was sure and she replied, "Yes. They need it more than I do. I can earn more."
I was blown away by this young lady's faith, and convicted by her generosity. I told her how encouraging that was and told her that I would ask some of my friends to multiply her generous donation. I put a simple post this past Sunday evening (it is now Tuesday) on Facebook inviting my friends to match her generous gift, and we had such an amazing response so far! As of this writing, we have raised over $3,000! What a gift! Would you consider matching her gift of $50 to help us care for children and church plants in Kenya? If you are willing to match her $50 (any amount less or more is wonderful) you can click here to give securely online. 
Feed Teach Hope is doing some wonderful things in Kenya. I will post a video below about our last trip. We welcome your prayers for our team that is going in October and I encourage you to prayerfully get involved with this new ministry!
---