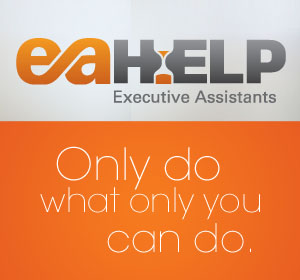 A few years ago I read The 4-Hour Work Week by Timothy Ferris and was convinced that I would be able to do more if I focused on what only I could do and got help for the rest.  He talked about the use of Virtual Assistants (VA), which I was completely unaware of, but wanted to learn more about, because there was a lot I needed to get done, but I found myself constantly getting bogged down by administrative tasks that I could do, but could be done by someone else.
My first experience with a VA was through an online service called oDesk, which was quite a positive experience.  In fact, the first person I connected with, Paul, still helps me from time to time with some online tasks.  For the most part, oDesk is a great place to find freelance workers, designers, and VAs, but it takes a lot of time to sort through all of the applicants to find a fit.  And on more than one occasion I've had folks who were helping me drop off the face of the planet.
For a while I just took things back into my own hands, which inevitably would lead back to the chaos that is my life.  One day I was reading a post on Michael Hyatt's blog and he was writing about how he was having a lot of success with his Virtual Executive Assistant (VEA) from eaHELP.
My life was becoming increasingly busy with my first book coming out, a speaking ministry, pastoring a growing church, and a commitment to have time with my family,  so I contacted them and got a proposal.
Here are a few things that made my decision to go with eaHELP easy:
They Do The Hiring: I did not have to spend anytime trying to find the right person by digging through hundreds of applications on oDesk.  eaHELP does the vetting and training before their assistants are even connected with a client.  They find the talent, the we, the clients, are matched with a perfect fit.
They Have High Standards: eaHELP does not hire just anyone.  They have a strong pool of extremely qualified and talented VEAs who are well educated, and understand the importance of a high quality of performance.
They Consider Your Needs: When I filled out the questionnaires they gave me they then followed up with a phone call interview with me to see what exactly my needs were at the time.  They used my personality, my needs, and my work style to connect me with the perfect assistant.
The Manage The Entire Process: When I was matched with my assistant, Aryn, I was also given a Relationship Manager, Kelli.  It is Kelli's job to make sure that we start out on the right foot, and she also makes sure that we are connecting well, and working together.  This may seem like a trivial thing, but it has proven extremely necessary and helpful along the way.
All of Their VEAs are Stateside: I am not opposed to working with people who are not in the States, but if I want my assistant to make phone calls, etc., then it is best if they are close to my time-zone.  Also, this ensures no language barriers and a high level of communication, which is necessary.
There is much more to say about eaHELP, so I will likely write more about it in the coming days.  I might even interview my assistant, Aryn, to help you see what all they have to offer.
Check out this video for more information about eaHELP: Click Here
What questions can I answer for you about eaHELP?  Leave a comment below.
---